There are so many perks to living on campus in 2019, you won't want to miss out on calling Res home next year!
1. Location, location, location:
Living on-campus is convenient – you can get up 10 minutes before class and still be on time! The library, gym, dining hall and other facilities are only a quick walk away.
2. Your friends are right outside your door:
In a dorm, your best friend will be right next door! On-campus living will be fun 24/7 and you'll meet a range of people from all different degrees.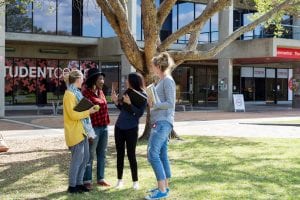 3. Diversity:
People come from all over, from different backgrounds to different ages to go to university. There is no better setting than a university residence to meet a unique group of people and make long lasting connections.
4. Safety and security:
You can feel safe within your home away from home, with on-call security 24/7 to help you with issues from being locked out of your room to security risks.
5. Unlimited utilities:
There is nothing better than a long hot shower after a tiring day of classes and studying. When you live on-campus, you pay a fixed price each fortnight, which includes unlimited hot water, electricity, laundry and so much more!