Living on-campus just got a whole lot better with all the new benefits for returners! Here's why you should apply to live on Res next year:
1. Prices are down
Prices will be dropping across most accommodation options and will still include all of the essentials – water, electricity, cleaners, security etc.
2. You can live with your friends
Wouldn't it be great to have your best friend living next door? You now have the option to between 1 and 8 other people live with (depending on your campus and accommodation type), guaranteeing you another fun year on-campus!
3. Live in the same room
You can also choose to live in the same room next year, meaning you will already know what dorm you're in and can enjoy your favourite room, again! And you'll know your way around the place well.
4. Downtown meets on-campus
In Bathurst,  you can with your friends in the newly refurbished, returner-only JOV group cottages. Pick eight of your mates and have fun with the best of living in town and the on-campus perks! There will be eight group cottages available in 2019.
In Wagga Wagga, you can live in the newly refurbished Malebo Cottages with five of your mates but the Cottages are filling fast so start your application now!
5. More flexibility
The requirement for a minimum meal plan has been removed from most accommodation options, giving you more flexibility around how you cater. Plus, you're eligible for a 10% discount at CHEERS outlets!
6. Dorm living!
Living on Res is a once in a lifetime opportunity, and you don't want to miss out on the countless dorm events! Be a part of a second family as a returner, allowing you to meet heaps of new people and create many new memories.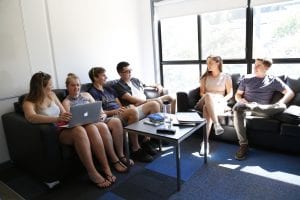 You will also be able to get support or advice from your RA and Residential Tutors.
Not only can you roll out of bed 10 minutes before class and make it there on time, but next year there are more incentives than ever to stay on campus.
So apply now for 2019 accommodation!