Meet Meaghan Kempson – 
The Bachelor of Education (Health and Physical Education) student is inspiring others through sport. After years of representing CSU in her chosen sport of soccer domestically, Meaghan has this year represented Australia and CSU on the world stage.
Between Russia and the Gold Coast, she has been the face of CSU sport. In June 2018, Meaghan represented Australia at the International University Sports Federation (FISU) Volunteer Leaders Academy in Russia. Only weeks later she led Team CSU to gold medal success at the UniSport National Div 2 competition in Queensland as Team Captain.
"I'm from a rural region so I'm very proud to pull on the red and white uniform every time I go and play sport. I think we're one of the most passionate universities and I'm extremely proud of that," says Meaghan.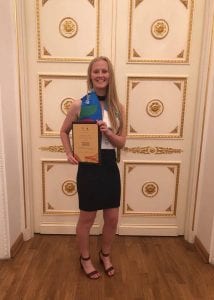 Locally, Meaghan is the President of the CSU Bathurst Sports Council, works part-time at the gym on Bathurst campus and is a member of CSU's Elite Athlete's Program.
She has previously been President of the CSU Bathurst Football Club and was instrumental in establishing the women's football team and the Headspace Cup in collaboration with Bathurst District Football Association.
Meaghan is passionate about young women pursuing their dreams and aspirations by seizing the numerous opportunities around, as she has had the chance to.
"My message to young women and girls would be that you're extremely valued and worthy of achieving great things in this world so if you have the desire to reach a higher level please continue to pursue that because the opportunities are certainly out there… go out and get what you deserve," says Meaghan.
Meaghan believes in the power of education and sport to break the cycle of disadvantage and hopes to teach in rural and regional schools in the coming years.
Join us this Foundation Day as we celebrate our students, staff and alumni.