In preparation for the UniSport Nationals Div 2 in the women's volleyball team, Holly Threlfo talks about her love for volleyball and involvement in the CSU Elite Athlete Program.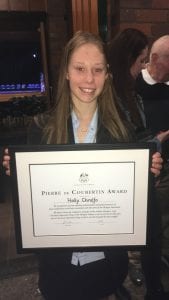 Why did you first get involved in your sport, volleyball?
I first became involved in volleyball through school as my friends started playing volleyball. I also was interested in the team aspect of the game as I had only ever participated in Gymnastics, which is an individual sport.
Why did you get involved in the CSU Elite Ahletes program?
I applied to be a part of the CSU elite program as the program caters for athletes like myself who train several times a week and need flexibility to cope with full-time study.
Who is your biggest sporting role model and why?
My biggest sporting role model is Emily Little who is an Olympic Gymnast. She has been my inspiration because, despite not always performing at her best or injuring herself during crucial competitions, she hasn't let it get the best of her which is what I've learnt to help me grow in my sporting endeavours.
How are you preparing for UniSport Nationals?
I'm preparing for Uni Nationals by staying at my fittest. This involves exercising at the gym, eating right and practising the basic skills of volleyball regularly.
What are you most looking forward to about competing at UniSport Nationals Div 2?
I am most looking forward to the team atmosphere, working together amongst girls from all different campuses and becoming one unit. As long as we all put in our best effort, the placing does not matter.
What is your ultimate goal as an athlete that you would like to achieve in the future? 
I would like to achieve my personal best irrespective of my competitors and the level that I compete at. I would like to enjoy every moment and take in the opportunities I have when competing for my state!