By Tahlia Marsh, Event Coordinator
I say, fancy a cycle?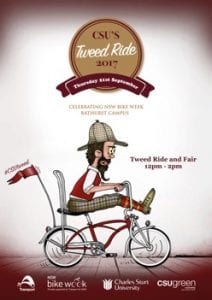 It's time to dust off your iron-steed, oil those chains and put on your tweed to join the CSU Tweed Ride and Fair in Bathurst and online on Thursday 21 September.
Bathurst's cycling enthusiasts will step out sporting their finest tweed attire and climb on their squeaky vintage cycles for a leisurely jaunt around campus. At least 30 chaps and chappettes are expected to ride. You'll spot them at 12pm on the Library Lawn – they'll be the ones in bygone fashion.
Not the cycling type? Get down to the Library Lawn and indulge in some FREE vintage food, tweed fun at stalls, local circus entertainment, event photography, and tweed clothes provided by the CSU Green Outfitter Stall.
There will also be a chance to fulfill your circus dreams with a FREE workshop to learn the art of hula-hooping.
Not on campus?
Well, it's your lucky day! Take a photo of yourself wearing your dapper cycling gear, upload it to your social media and use #CSUtweed to win.
The dress code is simple: anything that harks back to a time before Lycra!
Want to ride to uni, with or without tweed? Find out more about the University's support for bike transport.