By Rachel Baird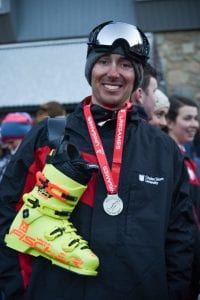 Team CSU have had a great week at Snow Uni Games 2017 at Thredbo, coming away with a silver to Danny Foster in Slopestyle and a bronze medal to Natalie Melis in giant slalom in the first few days.
Danny Foster is part of the CSU Elite Athlete program and juggles study with chasing snow seasons.
What do you study at CSU?
I study a double degree in Outdoor Recreation and Tourism, and Parks, Recreation and Heritage. I spend the first session at uni and second session I study online because I'd be up the mountain.
How did you start skiing?
I've been skiing since I was four, started propped up in between my parents' legs. Since leaving school I've been chasing winters between hemispheres, I think I'm on season number 22 or 23 at the moment.
How do you balance study / training / competition?
With a lot of difficulty. Thankfully CSU is flexible with study as an elite athlete so that makes life a lot easier for me. The main thing is to try to plan as far ahead as I can.
What do you love about skiing?
So many things! It allows me to travel quick down a hill and I like that! Probably the biggest thing though is no matter how good you get at it, you can always do something a bit better.
What are you looking forward to at Snow Uni Games '17?
I'm looking forward to testing my skills against some great competitors. Always stoked to see how I stack up against some of the Olympians and world-class athletes.
What are you competing in this year?
I'm participating in all Alpine events at the games: moguls, rails, slopestyle, Skier X, slalom, giant slalom and Super G.
Moguls: A timed freestyle event where competitors race down a steep course with bumps and jumps to show off their aerial skills.
Rails: It takes balance and serious skill to perform tricks on various rails and boxes along a course. Points are scored for originality and quality of the run.
Slopestyle: A freestyle event that includes a range of obstacles including rails, jumps and boxes. Similar scoring to rails, except competitors are also scored on the amplitude of their jumps.
Skier X: A timed event down a course with tight turns, wu tangs, rollers, banks, and rough terrain. Each competitor has an individual timed run, then it's onto the top 16 with 4 people racing at once on the narrow course.
Slalom/Giant Slalom/Super G: Each are similar timed events down the mountain through gates. Slalom requires competitors to zig zag between gates with short and tight turns. Giant Slalom has the same basis, but with fewer gates and a longer course. Super G is the longest of the alpine racing events with more gates and the longest course.
Where are you headed after uni games?
I was voted in along with nine others of Australia's best free-ride skiers to compete in the Buller X in a couple of weeks. The event is held at Mt Buller and I'm really looking forward to that.