I decided to reach out to the staff from the School of Communication and Creative Industries to find out more about the people who keep the cogs turning inside CSU's creative epicenter.
The office artefact will take us on a journey into the inner world of these individuals via a special object that inhabits their work space.
Dr Sam Bowker is a Lecturer in Art History and Visual Culture at CSU.
He is the curator of regional and international exhibitions on the theme of 'Khayamiya', or Egyptian Tentmaker Applique, and has developed the new subject ART240: Introduction to Islamic Art and Design as Australia's first online undergraduate subject in Islamic art from contemporary perspectives. Prior to joining CSU, he lectured in Art and Design Theory for the ANU, where he completed his PhD. He has also developed education programs for the National Portrait Gallery, National Library of Australia and National Museum of Australia.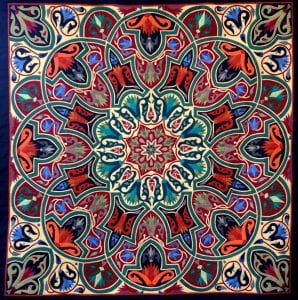 My office artefact is a …
contemporary khayamiya, or Egyptian Tentmaker Applique.
This artefact came to be in my possession…
I have been collecting these textiles for some time – originally as decorative things for the house and office, but now for research purposes. Few museums possess the khayamiya textiles in their collections, so I had to form my own collection to study and exhibit this endangered Egyptian art form.
The purpose of this artefact is ….
Textiles like this were once suspended as tent walls, forming enormous pavilions called suradeq. These were spaces for hosting events like weddings, funerals, and political rallies. Now they are designed as indoor artworks, rather like decorative tapestries, though they are physically similar to quilts.
The reason you will find this artefact in my office is …
The history of the tentmakers of Cairo has been my research focus for a few years now. I think they're fascinating, and their profile has been steadily rising since 2007. It's a spectacular way to explain why I do what I do.
If I had to pass this artefact on to one of my heroes (living or dead) it would be…
I don't believe in giving stuff to heroes, no matter what kind of sword they're carrying!
One day, it would be good to see Egyptian khayamiya widely recognised as an important contribution to global textile arts. It may find its way into a museum eventually.