My name is Dylan Oliver and I'm currently studying a Bachelor of Social Work at CSU in Wagga Wagga. Here's a typical day in my life.
—
7am: Knowing that Tuesday is my biggest day at uni, I decide to get up early and go for a run so it's out of the way. I have a lot of face-to-face time today, which requires extended periods of concentration, so I wanted to start my day off on the right foot. After running 500 metres I started to regret my decision.
8am: I live in the Butler Village on the Wagga Wagga campus. After my run I have a quick shower and dash from the shower to my room in just a towel (which isn't that enjoyable). The best thing is that the pressure in the shower is AMAZING!
8:20am: Now I've been up for a while now and far out I'm hungry! Throughout my run all I wanted was a coffee so I boil the kettle, put some coffee in a mug, and surprise, no milk. Lucky one of my blockies allowed me to borrow some of hers. WINNING! Yoghurt, muesli and fruit it is. Gotta keep up that healthy diet.
9am – 12pm: After walking over the hill to class, I take a seat in a three hour workshop for LAW221. Some people don't like law, but I actually enjoy it. The only thing I don't like is that it goes for three hours.
The workshop was split up into three different sections, a one hour lecture, a one hour tutorial, and a one hour discussion. During the lecture we covered confidentially and the importance of that in a social work perspective. The lecturer opened not only my eyes, but the entire class to a new side of confidentially that none of us even thought about!
Now, BREAK TIME! Yes, that means coffee, spinach and ricotta rolls and hanging out in the Crave Café. After slowly walking back to class I find out that our lecturer had allocated the rest of the class time to work on our assignments. Our prayers had been answered!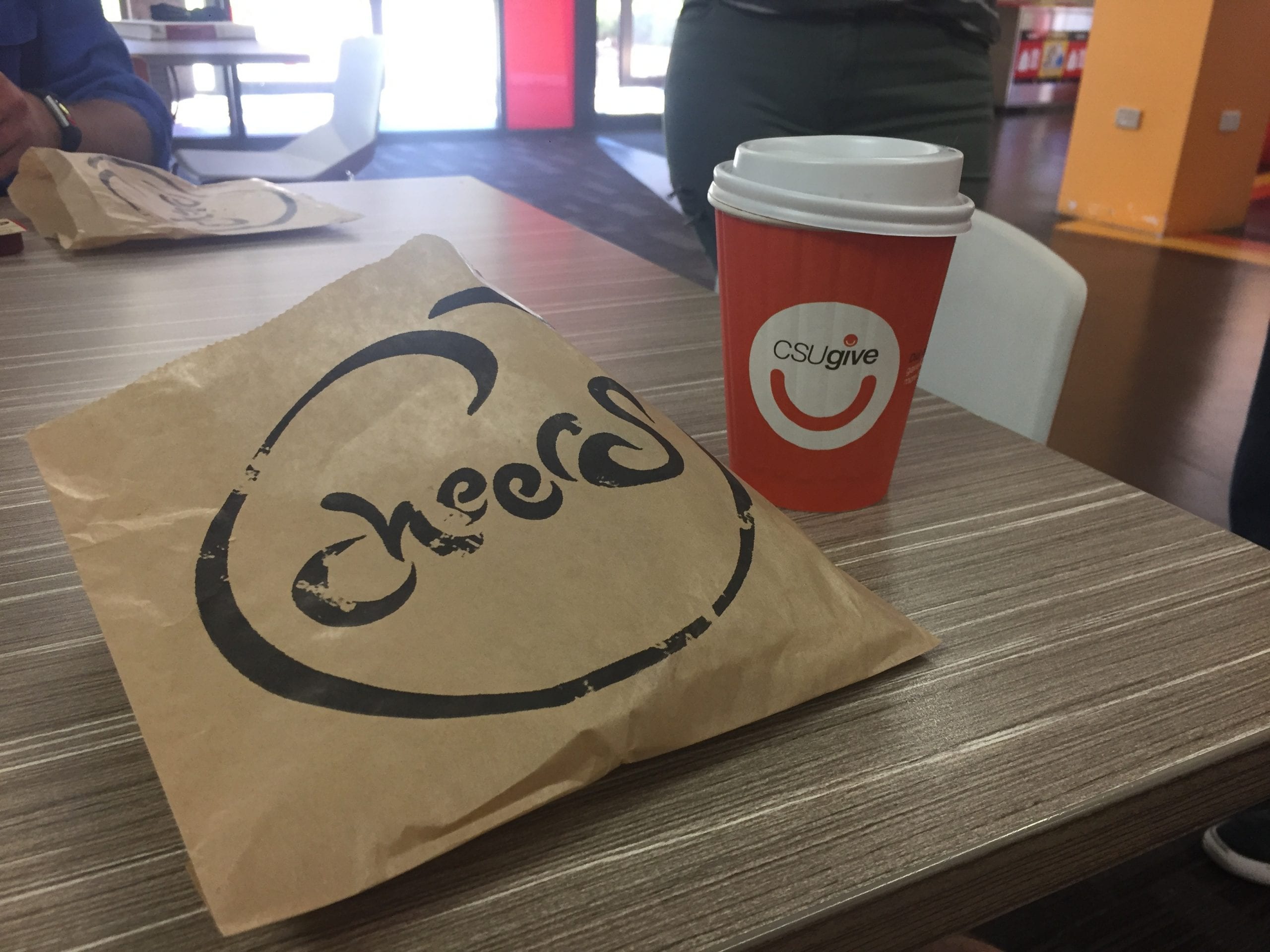 12pm: Class finished and it was time to head to the Hub for a sneaky snitty wrap! Today just kept getting better because the lady who makes the biggest and yummiest wraps was working! As per usual she didn't disappoint.
Sitting in the courtyard of the Crow Bar in the sun, enjoying a wrap with my mates and exchanging some quality banter is the best part of my Tuesday. The Hub and Crow Bar is busy today, so it was good to see the students getting around the on campus facilities.
1pm: Finished lunch, full as can be and not wanting to move! But unfortunately, I'm yet to do the homework for PHL101 which I have at 2pm, so off to the library I went. The library is packed! There's people everywhere. Why you ask? Everyone has assignments due and the stress level on campus is at an all-time high.
PHL101 is my worse subject, I'm passing, but I don't like going because it makes my brain hurt. The lecturer allocates 2 sections a week for homework. The current topic is 'Abortion and a foetus's right to life'. After quickly flicking over the readings – which I might add was 11 pages long – I headed off to the lecture.
2pm: THE LECTURER DIDN'T EVEN CHECK THE HOMEWORK!
The topic for today's lecture is trying to find a defence for abortion. The reason that this subject hurts my brain is we go from talking about abortion, to a violinist being unplugged and dying, and then to a burglar breaking and entering into someone's property (these are analogies used to describe abortion). Crazy stuff!
4pm: Class is done for the day, yahoo. Which means it's time to walk back over the hill. At this stage, the sun is gone and I'm starting to regret wearing shorts and a T-shirt. To warm up I just walk faster. I get home, both physically and mentally exhausted!
4:30pm: After relaxing (laying on my un-made bed scrolling through Facebook), I decide to do some study considering I have 3000 words worth of assignments due on Friday. Pray for my soul!
Being a social work student opens your eyes to so many different aspects of life, as you walk around you start to see where subjects like sociology and communications come into play. You start to look at the world from a different perspective and pick up on little things around how the world discriminates certain individuals, and how even though you don't take offence to something, it doesn't mean others won't.