Ever wondered what SSAF means? Seen the logo around the traps (look to your right on this page)? Or wondered what you're actually paying for when you fork out for those dreaded university fees? Which seem to come around way too soon.
The Student Services and Amenities Fee (SSAF) provides the University with the funds to maintain and enhance services and amenities that support students. That's right, this fee is aimed at making your time at uni the best it can be.
SSAF funds at CSU go towards a range of programs – this Charlie blog being one of them. Another fantastic program funded by SSAF is the Elite Athlete program. If you ever wondered how our gold medallist's juggle study with professional sport, then you can stop wondering. This program supports CSU students who are both studying and competing at an elite level.
Kate Staniforth is the Student Liaison Officer for Elite Athletes at CSU. Her job is one of many funded by SSAF, and is vital as it allows athletes to continue studying whilst training for their sporting careers.
Earlier this year Kate attended the University Games in Wollongong and told us some of her favourite parts of the trip.
"I really love seeing an athlete develop" Kate said.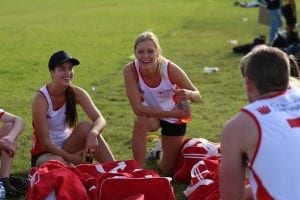 "My highlight has been witnessing our athletes work as a team and compete for CSU at the University Games."
She also described seeing two CSU students win gold at the 2016 Rio Olympics as especially thrilling.
"Witnessing Alicia Quirk and Nicole Beck win gold for Australia in the Women's rugby sevens was amazing" Kate said.
"Both women are great ambassadors for their sport and for CSU."
As the point of contact for the student athletes, Kate assists in creating study plans and assignment extensions when sporting commitments may get in the way of study.
The Elite Athlete program not only assists international and professional athletes, it also supports emerging athletes and sports personnel, such as referees and coaches.
CSU is one of the 39 universities that are Elite Athlete Friendly. A strong online presence and flexible study options make CSU a great choice for elite athletes looking to study.
The SSAF contributes to the maintenance and ongoing development of essential services and amenities for students, both on and off campus without the need to reduce funding for teaching and research. For more information on SSAF funding, check out the website.