The stress has left the building as we've made it through yet another year of assignments and exams. But, it isn't over yet, as we wait anxiously for our grades to be released. Do not fear, the Student Central team is here again to answer your questions!
FAQ 1 "When will I receive my grades? What's going to happen?"
On Friday 11 November from 12pm onward you'll get an email to your message centre and you'll be provided with a link. Online transcripts will be available the next day for your viewing.
FAQ 2 "Will we be told when our grades are released?"
Often your lecturer will announce it. But you can also view it on your student calendar under important dates.
FAQ 3 "It's coming up as a TA grade on my account, can you fix this?"
Unfortunately we can't control that, we understand that this is frustrating, but it is up to your lecturer to release your grades.
FAQ 4 "Why can't I see my results/grade?"
There may be a few reasons — your lecturer might not have released them yet, or more commonly, you may have some outstanding debt that needs to be paid. Once these are paid, your transcript will become available to you.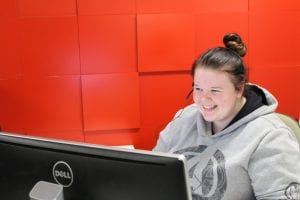 Lara Gamble answering phone calls at the Student Central help desk.
The Student Central team also want to remind you that they know how stressful this time can be, which is why you can find out more information at ASKCSU, or call 1800 275 278.
If you need to speak to someone, there are also lots of counselling services available.