Nine Bachelor of Nursing students and their lecturer Cathy Maginnis were lucky enough to jet set off to Northern Thailand as part of their international work placement during the June – July 2016 mid-session break.
During the trip, the students visited villages that suffer limited access to health care and education. A highlight was providing villages in Northern Thailand with more than 300 reading glasses and sunglasses that were kindly donated by local communities in Dubbo, Wagga Wagga, Bathurst and Albury-Wodonga.
The first stop was in the northern city of Chiang Mai. Students quickly got used to the hustle and bustle of the night markets and the crazy traffic stream of motor bikes, push bikes and of course the famous tuk tuks.
As the work placement was focused on primary healthcare, health education and health assessments, the students travelled by 4WD to remote villages to set up mobile health clinics in local schools.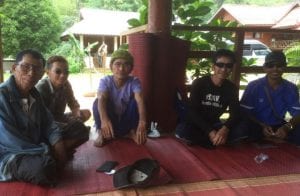 In the villages, the nursing students tested school students for visual acuity for the reading glasses and sunglasses that were donated. Life long memories were created when the students were able to witness the expressions of the villagers change as their vision improved, which was an emotional experience for all.
Students also donated toothbrushes and toothpaste, stickers, slinky and toy cars as well as pens and book marks for the children.
Studying abroad didn't just include studying the entire trip, nursing students went on walking tours to visit local temples and learn about the Thai culture and customs.
School of Nursing, Midwifery and Indigenous Health lecturer Cathy Maginnis said "It was both humbling and a privilege to be able to provide health care to the different villages and to be welcomed and immersed in the Thai culture."
If studying overseas isn't on your radar, perhaps these students will change your mind! Studying abroad is a great experience for any student in any field. It not only looks great on your resume after graduation, but it could also be an adventure of a lifetime, creating lifelong memories.
If you're interested in studying overseas or thinking of taking part in work placement overseas, head to CSU Global and check out the international study opportunities for you course area.