It seems to be the time of year for students to be escaping the cold Australian weather, and enjoying sunshine in the warmer parts of the world, and we can't blame them! Twenty seven of CSU's Agricultural students have arrived home to Australia after a 16-day agribusiness tour through France, Switzerland, Germany and Belgium.
During the trip, students learnt about new technologies and farming practices to give the next generation of agricultural scientists and business managers an international perspective.
Arriving in the city of love, Paris, students visited the largest fresh food market in the world – the Marche de Rungis. This covers 230 hectares of covered market place; a food lover's dream!
A robotic dairy farm in France and alpine herd management in Switzerland reflected the concern for animal welfare and the ability for a consumer to trace the product from the farm gate to plate.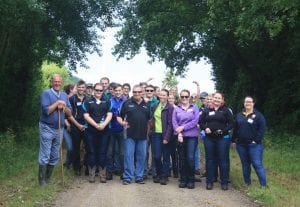 The technology the students learnt about was "brilliant" and "fascinating", particularly at the robotic dairy where computers communicate with a collar on the cow and provide the farmers with information on the health of the animal.
Dachau concentration camp in Germany and the Australian National Memorial near Villiers-Bretonneau were some of the cultural sites visited alongside other major western European cities.
Bachelor of Agriculture student, Ms Casey Skalski, believes an international study experience is something that every student should do at some stage during their degree.
Ms Skalski said "I found myself forging strong relationships with the other 26 tour participants, having pretty much once in a lifetime experiences and really defining what direction I want to take my studies and what career path I want to take once I graduate."
Head to CSU Global to check out the upcoming international study programs for your course area.