By CSU Snow Uni Games competitor, Rachel Baird
The 2016 Australian Snow Uni Games are being held in Mt Buller, Victoria from 30 August – 3 September, and will bring together more than 400 students from universities across Australia to compete in a variety of events for skiers and snowboarders. CSU has a team of 14 students from Wagga Wagga, Bathurst, Canberra and Albury-Wodonga campuses competing in this year's games.
But what makes Snow Uni Games different to other Uni Games events? Having such a small team we get to know each other very well, very quickly. We stick together on the mountain and help each other out, especially when boarders get stuck on flat areas and the skiers tow them to their destination.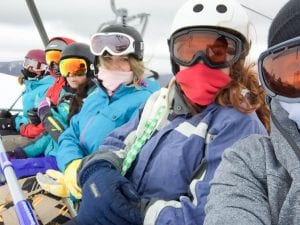 What are the events and who's competing?
Skiers have eight events in alpine, freestyle and cross-country skiing, while boarders have five events. Here's what they are and who's competing:
Rails
Rails requires competitors to specialise in the one obstacle; rails. It takes balance and skill to perform tricks on various rails along the course, mixed in with jumps and boxes. Points are scored for originality and quality of the run.
Danny Foster skied on the first day of competition and scored CSU our first bronze medal! Katie Chapman and Florence Wood snowboarded and placed 6th and 7th in the finals.
Moguls
Mogul skiing is a freestyle competition in which competitors race down a steep, heavily moguled course. Moguls are small mounds, which requires technical turns and aerial manoeuvres to complete the course.
Danny Foster will be competing on Wednesday.
Skier Cross
Skier cross features big-air jumps and tight turns down a course. Jumps, rollers, banks and rough terrain provide a difficult course for competitors. Individual time trials are run first with the fastest 16 women and 32 men competing in knockout rounds of four.
Danny Foster and Alice Debney are competing in the event on Wednesday.
Boarder Cross
Boarder cross, similar to skier cross, has competitors race down a narrow course with tight turns, jumps, rollers, drops and flat sections. It is designed to challenge a rider's ability to stay in control while keeping maximum speed.
Katie Chapman, Florence Wood, Rachel Baird and Katrina Swift will compete Thursday afternoon.
Slopestyle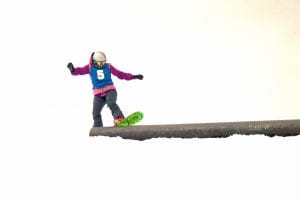 Slopestyle is a freestyle event that includes a range of obstacles including rails, jumps and other terrain park features. Competitors are scored on their originality, amplitude and quality of their tricks.
Danny Foster will be skiing on Friday afternoon. Florence Wood will be snowboarding on Friday afternoon.
Slalom
Slalom requires competitors to zig zag between gates or poles with short and tight turns. This speed event records the fastest of the competitors two runs.
Danny Foster and Alice Debney will ski Thursday morning in this event.
Giant Slalom
Giant Slalom has the same basis as slalom, but has fewer gates and is a longer course. Competitors have two runs and their fastest is recorded.
Sam Davis-McMillan, Katie Chapman, Katrina Swift and Adele Ruigrok are competing on Wednesday.
Danny Foster, Lachlan O'Meara, Katherine Dodd and Alice Debney will ski on Friday afternoon.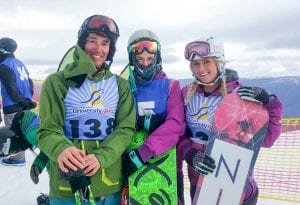 Super G
Super G is the longest of the alpine racing events and has the same basis as slalom and giant slalom. Competitors have one run down the course, keeping speed while turning through gates.
Danny Foster, Alice Debney and Sarah O'Donnell will ski Saturday morning.
Katie Chapman, Petrina White and Katrina Swift will be snowboarding Saturday morning.
Cross Country (Relay/Individual)
Cross Country involves skiers moving across snow-covered terrain, both up and downhill. This timed event takes endurance and fitness to complete the course.
Phil Bellingham from Canberra campus competed in the 2014 Sochi Winter Olympics in this event and will be competing for CSU on Saturday afternoon.
Team CSU is working hard on the slopes and having fun this week. Stay up to date with the competition on the CSU Sport Facebook page. We hope to see you compete with us next year!