By first-year Master of Social Work student Michelle Marshall
I recently visited South Korea with my lecturer Dr Karen Bell and four other students for a two-week overseas study tour program. The trip was a great opportunity to meet people from all over the world and to understand, learn and create a difference in the world through understanding what social work means to each different individual.
In the second week we had the opportunity to stay in dorms at Soongsil University where we experienced campus life through campus tours and the surrounding areas of the University.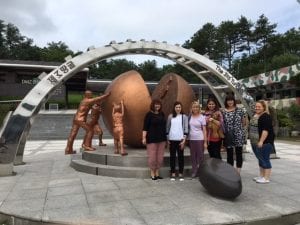 The classes we attended were all well-presented and fun, as we learnt how to speak Korean and learnt about the Korean history/culture and social work within the country. We got to visit a few agencies around Seoul, and each day we had a different student travel with us. We got to try new foods at restaurants, and learn interesting facts about the cities from local students.
We also visited the 'Third Tunnel' on our tour to the Demilitarized Zone (DMZ). This was confronting as we got to see firsthand the tunnel that was built by the North Koreans for the Korean War.
One of the most unbelievable experiences was with the University during a music lesson on how to play the traditional drums. As the music instructor did not have very good English we learnt how to play the instrument entirely through body language. Not only did we learn how to play a new instrument but we learnt that communication can be achieved in numerous ways, not just verbal.
During my trip I learnt so much and will continue to learn more about social work. The people we met at Soongsil University made a massive impact on my experience in South Korea, and I just want to say thank you to CSU global, my lecturer Dr Karen Bell and all of the other students that shared such an unbelievable experience.