As co-creator of a student-led team called the Student Heart Project, Bachelor of Clinical Practice (Paramedic) student Daniel Steinbeck is saving lives.
The Student Heart Project involves students and staff from CSU's Port Macquarie Campus. They fundraise with the aim of donating and installing public defibrillators in the Port Macquarie region. The project recently had the first public access defibrillator installed, which will be available 24 hours a day in the city centre.
Daniel believes the need for the project is simple – to help save lives.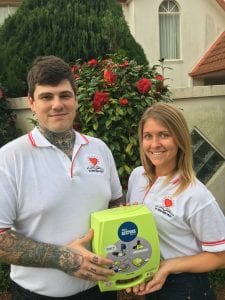 "After starting paramedics and seeing the huge need for early intervention to do with sudden cardiac arrest – it's the biggest killer in Australia – there is a huge need for intervention," he said.
"Especially in a place like Port, where there is an older population, it's a great place to start that trend, and also in rural communities where you have the support and the town really gets behind it."
The project was established in May 2015 by students who were searching for a way to give back to their community. The project has since grown into a team of paramedicine students and teaching staff who are helping the community learn and help treat sudden cardiac arrests.
The project raised $16,000 last year, allowing them to buy seven defibrillators.
"We saw that especially in smaller, more rural communities, there wasn't an avenue to do that," Daniel said.
"We have support from staff members; many of them bought tickets to the events and have donated money.
"It is open to everybody and we have been trying to recruit people outside of paramedics."
A strong supporter of volunteer work, Daniel believes in giving back to the community.
"Doing something you love and studying a degree that you're really passionate about makes you more passionate about what you do in your personal life," he said.
Crediting the passion of his teammates and his cohort in helping the Student Heart Project come to life, Daniel says he is "lucky" to be involved.
"I guess meeting two other students who were just as passionate, it invokes that in you, to pursue things that maybe you thought you couldn't do by yourself or without help," he says.
"I was inspired by them to try to do something."
"I'm just lucky that I have been able to be found the Student Heart Project and be a part of that."
Although the Project is currently focused on the Port Macquarie region, Daniel says the ball is rolling to try to expand the project across all CSU campus cities.
"We're in the early stages of opening up that dialogue now to see whether or not we can do that in the future."
This Foundation Day, we're celebrating the work CSU students, staff and alumni are doing in their communities, and how they're living well in a world worth living in.
Yindyamarra Winhanganha: The wisdom of respectfully knowing how to live well in a world worth living in.