By Emily Mulquiney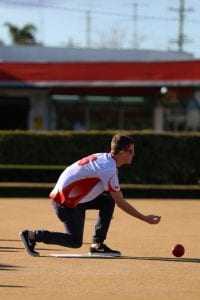 Lawn bowls enthusiasts Michael Maxwell and Alex Turner are the only two Port Macquarie Campus students representing CSU at the 2016 Eastern University Games.
This week in Wollongong, they are both competing as members of the lawn bowls team.
Despite being the only Port Macquarie students competing, Michael and Alex both said the Games have been a highlight for them, describing it as "one of the best weeks ever".
"It's an unreal experience, the atmosphere is great and it's something different that everyone should give a go," they said.
Michael and Alex are currently studying the Bachelor of Criminal Justice and although they have previous experience in the sporting arena, they both admitted they still get nervous when competing.
"It's nerve-wracking to say the least. You don't think you will get into it but when you start playing it becomes addictive," they said.
Having no expectations going into the Games, both claimed it has been an incredible experience.
With the Port Macquarie Campus continuing to grow, the boys hope to encourage others to get involved in this once-in-a-lifetime opportunity.
The Eastern University Games bring all the campuses together in a friendly yet competitive environment to represent CSU, meet new people and make friends for life.
Check out all the latest from the Uni Games at the CSU Sport Facebook page!