Juggling study commitments can be challenging at the best of times but imagine doing it while representing your country as an elite athlete.
Bachelor of Physiotherapy student Alicia Quirk is part of the Australian women's rugby sevens team, which won the 2015-2016 HSBC World Rugby Women's Sevens Series in May.
Alicia admits juggling study with the demands of training and travel can be difficult, but she said the support through CSU has made it easier.
"I was able to extend my course over a much longer period to undertake my placement requirements which has been very handy, especially in the lead up to Olympic qualification," she said.
"It takes a lot of organisation and motivation to study, especially when you are physically and mentally drained from training.
"I find I get a lot completed on long flights or bus trips or long lay-over periods between travelling. I feel like I am always playing catch-up though.
"Travelling with a full-time physiotherapist does help with my learning and I am exposed to a lot more hands-on experience in my day-to-day environment."
Alicia has a simple message for other athletes undertaking university study.
"If you really want to do multiple things you will find the time to do it," she said. "I write lists and lots of them. I have too much going on and I would forget otherwise.
"I like to give myself time outs from both uni and rugby. I find that helps with keeping me focused and energised towards achieving whatever I am trying to do.
"It will be hard but, like the hard work you put into training, the same rewards are available with university study."
As for the next goal on the rugby field, Alicia will know by the end of June if she's been selected in the Australian Olympic team for Rio 2016.
CSU is a member of the Elite Athlete Friendly University Network, which recognises the additional support and flexibility required by students who are also competing or performing at an elite level.
More than 50 athletes, performers and sports personnel are taking part in CSU's Elite Athlete Program.
The program is not just for recognised elite or professional athletes. It also includes elite sports personnel, elite performers and also pre-elite athletes who have the ability to attain high honours.
The aim is to help student athletes balance their study and sporting commitments or negotiate special arrangements and flexibility to help them meet the requirements of their course.
This support, understanding and flexibility allows our athletes and performers to achieve their best in the classroom and on the field.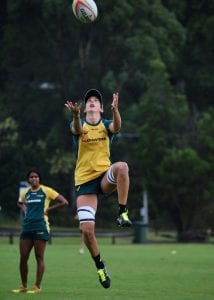 Quick facts:
CSU Physiotherapy student Alicia Quirk is aiming for selection in Australia's women's rugby sevens team for Rio 2016.
She was part of the team crowned 2015-2016 HSBC World Rugby Women's Sevens Champions in May.
Alicia has 16 World Series caps and has scored 24 tries. In 2015-2016 she played four legs of the series and scored four tries.
Top study tip: write lots of lists.