By Darcie Morrison
It was only 12 months ago that I started playing rugby sevens and now I'm thrilled to find myself selected in the Australian team for the World University Championships. A little over a year ago, if you'd asked me, I would have considered myself mostly a netballer and touch footballer.
In 2014-15 I was drafted with the Australian Institute of Sport (AIS) through their sports draft program, which identifies talented athletes whose abilities they then test and allocate to a sport that best suits their body type and strengths. I was drafted for combat sports (judo, boxing and taekwondo) and rugby sevens, and as fortune would have it, I chose the rugby path.
My first uni games were the Eastern University Games in 2014 in Newcastle. I was in the CSU women's touch football team and we won the silver medal. It was a fantastic experience.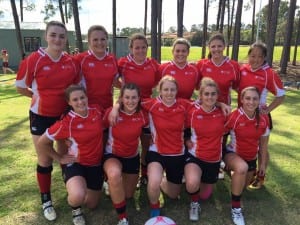 Then in 2015, CSU was fortunate to be able to send a women's rugby sevens team to the Gold Coast for the Australian University Games and I was lucky enough to be part of the team.
In what was an amazing experience, over the course of not quite a week, we played so well that we won the gold medal. And three of our team (including me) were named in the Green and Gold team. It was a great honour for me.
It was this experience at the Australian Uni Games and being named in the Green and Gold team that led to being asked to participate in a selection camp, and from there I was picked as one of the top 12 who would represent Australia at the World Uni Rugby Sevens Championship.
Joining me in the squad is another player from CSU, Olivia Patterson. Olivia is now working as a teacher in the Southern Highlands, having graduated in 2015, but she will be on the paddock with me in Swansea, Wales in July.
In the lead-up to the world championships I'm most looking forward to the overall experience and the journey. As a player I hope to develop my skills and abilities and learn from the high-level competition I will be faced with. It will be my first international tournament and I'm really looking forward to the challenges that I know will present themselves. The Australian team is a great group of girls and I'm sure we will enjoy the trip no matter the outcome.
If I had to give advice to any students who are thinking about signing up for Uni Games this year, it would be 'go for it'! Although it can cost a fair bit of money and the training and event itself takes up your time, it's definitely an experience you don't want to miss out on. It's incredible and the new friends you make will amaze you. Uni Games was absolutely one of the highlights of my uni life.
Darcie Morrison is a third-year Bachelor of Exercise and Sport Science student, studying at CSU in Bathurst. In July 2016, Darcie will travel to the UK to represent Australia at the World University Championship Rugby 7s.