This is my second foray into the world of study. I did my first degree 20 years ago. Yes, I love research and deadlines.
In the olden days, the student union was filled with dodgy sofas covered in questionable stains and a thick haze of cigarette smoke was actually visible. The bar served beer. Only beer. We had no internet. Just Word, chunky computers and 3.5-inch floppy disks.
We had to make a physical appointment to interact with our tutor by writing our names on a piece of paper on the office door. When we turned up we had to have a hard copy of our work. That meant on paper. Printed out. We had to speak to them face-to-face. Not one emoji passed between us. We did not know their first names. We could not Facebook stalk them to determine if they were actually human or if they had a secret life on the weekends where they attended medieval fairs dressed as knights.
Heavy textbooks were the bane of my life, especially as I lived off campus and had to walk 20 minutes to get to lectures. Yes, occasionally I did attend a lecture.
We had dark libraries and we had to be quiet. And the worst – no liquids allowed. We wouldn't be seen dead drinking coffee anyway. That was for grown-ups.
This time, I'm doing an undergrad course in Emergency Management. Yes, quite a deviation from the PR world. But what can I say? I've secretly been in love with emergencies for years and it was time to go public.
My textbooks today are a little lighter. In fact, it's a USB stick. It holds more research on it than I read during the whole three years I did my first degree.
Student bars today are more likely to be coffee bars with lattes and lounges with no questionable stains. Students do yoga at lunch rather than sitting smoking on the grass outside the refectory.
I recently looked up my old uni. It has a dedicated social media area and even friendly staging for that perfect Instagram image. We have access to any information thanks to the internet, with not one dusty encyclopedia or dog-eared journal in sight.
Our tutors encourage Twitter interaction and are available online 24/7. Emoji are flying around all over the place.
I can talk my librarian on the east coast from my study on the west. I can chat online with students from around the world and from different backgrounds without leaving my seat.
Distance learning is great. While I sometimes hanker after the good old days, students of today are better positioned to learn anything about anyone and any subject. Don't waste the opportunity you have signed up for. Studying for a degree will give you skills and knowledge you will use for the rest of your life.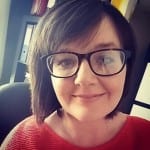 Johanna Garnett describes herself as "an old gal getting a second wind in life. Coffee lover. Undergraduate. Emergency Management tragic. Background in events and public relations. Ex-radio host in a former life. Lover of books and history".