Succeeding in your chosen field is of course the ultimate goal for a university student; so being recognised for this hard work by receiving a Dean's Award for Academic Excellence is both an honour and a fitting acknowledgement of all of your achievements. But how do you get in the running to obtain such an award?
I spoke with Annie Schmidt from the Faculty of Arts who stated that to be eligible for a Dean's Award for Academic Excellence at CSU a student must attain "a grade of Distinction or High Distinction in all coursework subjects undertaken, or H1 in the case of a Dissertation subject, and completed a minimum of 32 points over a maximum of three sessions."
Pretty impressive! But what does a Dean's Award celebrate, and how can it benefit you?
Other than the self-confidence, recognition and bragging-rights of being a recipient, it is a notable achievement to list on your resume that is viewed very favourably by prospective employers. Having a Dean's Award highlights the calibre of the recipient, including their intelligence, hard work and dedication to their studies.
Kelli Smith is a fourth year Advertising/Marketing student at CSU that has been on the Dean's Award list now for two years running. When questioned about her goals and incentives for study she stated: "my main motivation is getting out of uni faster! I can't wait to start working and getting paid!".
Receiving such exceptional results whilst at university isn't easy, it takes a lot of effort – "I do a lot of uni work, usually I would work similar hours to a full-time employee (especially in the lead up to exams or big assessments) but I almost never do uni work on weekends," said Kelli.
Is it worth it? According to Kelli, yes it is: "being the recipient of a Dean's Award is very special to me, I do put in a lot of hard work to my degree and it's nice to know that it is being recognised. I'm very proud to write that I'm a Dean's recipient on my resume!"
A quick word of advice for anyone struggling with study motivation coming up to exams? Kelli suggests you "try procrasti-baking, it will take your mind totally off work long enough for you to get re-energised."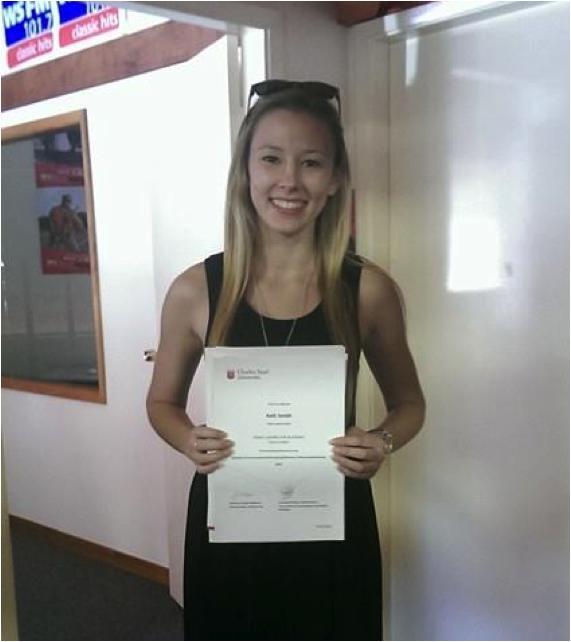 Kelli Smith with her Dean's Award for Academic Excellence, 2014
Happy studying (and procrasti-baking) fellow students – we hope to see you next year at the Dean's Award ceremony!